The girls got a nice surprise in the mail today. They got their very own package, addressed to the both of them.
They were so excited to see what was inside, we ripped the tape off, and they opened the box…
OH MY GOD!!!! Lyric Yelled… Aria shrieked.
They were so happy with their surprise from Grandma J.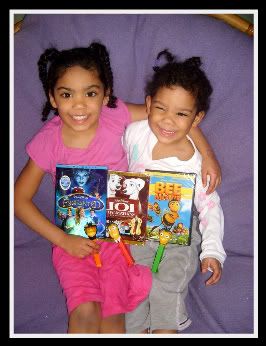 Inside their package was 3 movies. Disney's Enchanted, 101 Dalmatians and Bee Movie, which also included 3 Bee Pez. They girls were ecstatic. Now they sit, eating their lunch watching 101 Dalmatians, and CLINGING to their pez lol.
Thank You Grandma J!!!!!

March 31, 2008 – 2:12 PM - | Posted in
daily life
|
3 Comments »
3 Comments to "Thank You Grandma!!!"
Janet Says:
March 31st, 2008 at 3:55 PM

I remember I always loved getting mail from my grandmothers!

sarah Says:
March 31st, 2008 at 8:35 PM

What cuties you have! And you doesn't love mail!!

Mommy of 2 Grlz Says:
March 31st, 2008 at 8:55 PM

Thanks 😀
It is nice that even tho they don't live by either of their Grandparents, they are always getting something from them somehow.