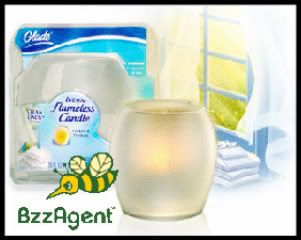 I am a member of a great website called BzzAgent. This is a place where you can sign up for different campaigns for products and you get to review them.
Recently a campaign for Glade® Wisp® Flameless Candles was offered to me, so I jumped on the opportunity to try this product out.
The Glade® Wisp® Flameless Candle combines continuous puffs of fragrance with a warm, flickering glow, letting you enhance the mood in any setting. Looks so real, you'd never know it wasn't a real candle.
I find this idea to be genius. Especially for those with younger kids. You get the great scent of a candle, the great look of a candle, without the dangerous flame. There's no more worry about having to not burn the candles when the kids are around, no more worrying about them even touching a flame. I also love the fact that you can control the amount of fragrance that comes out. On the bottom of the candle there's a setting where you can adjust it to be a little or a lot of fragrance that 'puffs' out of the candle.
Another great feature is the automatic shut off. The candle will run for a 3 hour time period and then automatically shut itself off.
I really love this product, and definitely will be purchasing more when I run out of my fragrances. If your a mom, this is a great item for you. Even if your not a mom with small kids, you have the ability to have a great candle without the messy cleanup of dripping wax, no worries about one of the pets accidently knocking it over. Just a great item overall, I recommend it highly.
If you'd like to check it out, right now Glade is offering a $5 off printable coupon. You can find it by clicking on the following link: Glade® Wisp® Flameless Candle

March 29, 2008 – 2:17 PM - | Posted in
Uncategorized
|
2 Comments »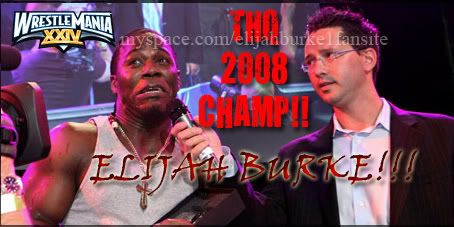 Wrestlemania 24 weekend is upon us. It's the most exciting wrestling event of the year!! The Superbowl of wrestling…..
I'm sad that this year I will be missing out on being there at the event, unlike last year. But parenting duties call, and there's always Wrestlemania 25.
One of the first events of the weekend is the annual THQ Superstar Challenge. Where WWE wrestlers compete with each other on the RAW vs. SMACKDOWN video game.
My personal friend, Elijah Burke was once again VICTORIOUS in becoming the THQ 2008 Superstar Challenge Champ!!! Beating newcomer Kofi Kingston this year.
Congrats to Elijah, hopefully this is a look into the future of him becoming our next ECW Champ.

March 28, 2008 – 2:56 PM - | Posted in
Uncategorized
|
Comments Off

on Elijah Burke is THQ champ once again…
Can you believe this???
It's March 28th, 2008. A whole week since the first day of Spring. And what's the weather like here in Ohio?
SNOW! SNOW! SNOW!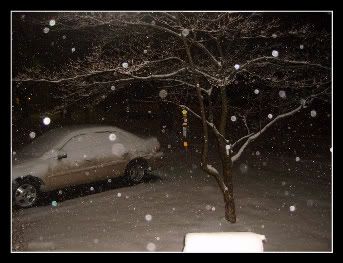 It's unbelievable!!! I don't think that this winter is EVER going to end.
Where are the birds? The sunshine? Where is spring????
The girls are even sick of the snow. Lyric's words out of her own mouth today when she saw it was starting to snow were: "Mommy, it's snowing AGAIN, we're never going to go to the park now!"
Poor girl, most of the time kids love snow, love that they can go out in that cold, icky fluffy stuff and run around and build snowmen and make snow angels, but I guess once you've had this much snow, you've had enough, even if your a 4 year old little girl!

March 28, 2008 – 12:44 AM - | Posted in
Uncategorized
|
Comments Off

on It's Beginning To Look A Lot Like Christmas….